When I got a chance to test out the new Stiga SHT 80 AE 80V cordless hedgetrimmer, I jumped at the opportunity. Not only did my hedges need desperately cutting, but I have been very intrigued to feel exactly how much power these 80V tools have; Stiga & Mountfield say 80v systems are directly comparable to petrol equivalents.
Side Note:
Since trying these myself, I have found out anyone can do this. Stiga run a 'Test The Best' scheme where you can borrow these tools from participating local dealers and find out if they are right for you before you buy. Find your local dealer here https://www.stigalawnmowers.co.uk/testthebest/
Lets look at the hedge cutter
Officially known as the Stiga SHT 80 AE 80 Volt Lithium-Ion Cordless Hedgetrimmer, this is one mean machine. When you pick it up it is pleasingly weighty. Not in a way that feels heavy, but you know it is well built and will stand a bit of gardeners abuse.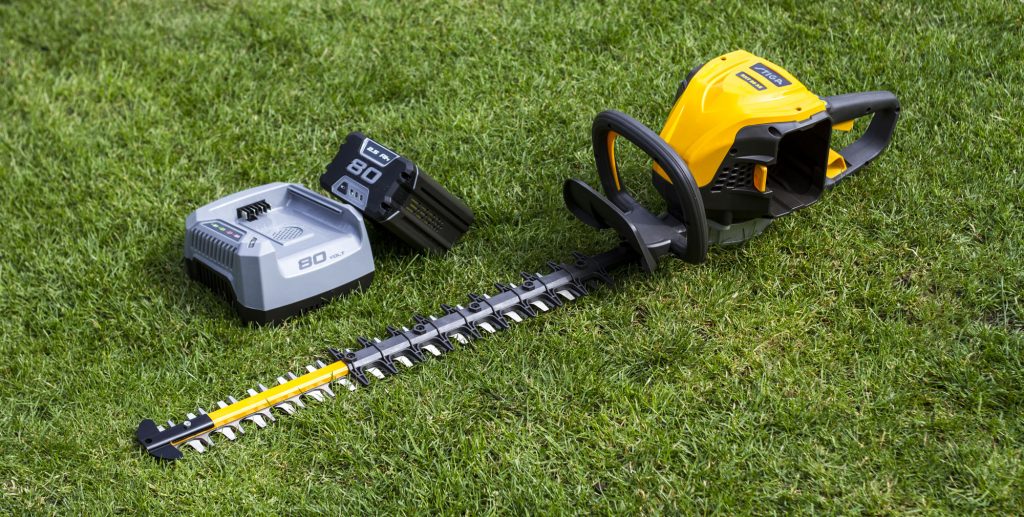 You can see the hedgetrimmers full specification here.
About Stiga 80V
Last year Mountfield & Stiga (sister companies) launched a range of 80V cordless mowers that paired their brand new 80V engine system onto existing chassis of petrol mowers across their range. Claiming similar performance to their petrol brethren, these were aimed at those wanting the petrol power and quality but without the servicing hassle and starting issues that fuel power machines suffer from. From what I heard no-one was disappointed.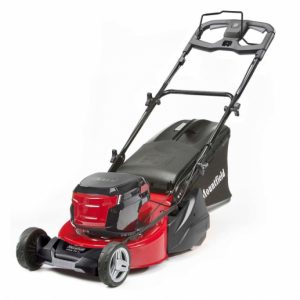 This year Stiga have introduced a range of 'hand tools' to complement the mowers. These utilise the same 80v battery and charging system as the Stiga and Mountfield mowers.
In the 80v hand tool range, Stiga have launched a; bike handle brushcutter, loop handle brushcutter / trimmer, chainsaw, blower, and obviously the hedgecutter. You can see the full range of Stiga 80v tools here. Check out the Mountfield 80v mowers, see their full range at Mower Magic here.
If you have one of their 80V mowers already you would just need to buy the bare tool. If you are looking for a complete tool then buy a kit or spec it separately with whatever capacity battery you would like.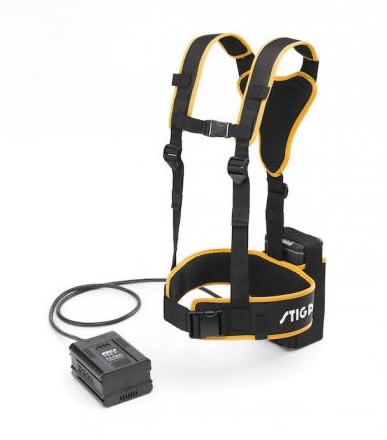 The smaller 2.5Ah batteries like the one I tested, fit directly into the tools. If you go for the larger capacity batteries, these fit into a harness with a dummy battery clipping into the machine. This makes it more comfortable to use and keeps the machine that little bit lighter. I don't think many people will need the higher powered batteries as even the 2.5Ah has a quoted run time of typically up to 60mins according to Stiga. We will see how it holds up to this claim later.
On a side note, if you bought Greenworks 80V tools, this battery system is compatible with the Mountfield and Stiga 80v kits so you can reuse your batteries in the new tools.
First Impressions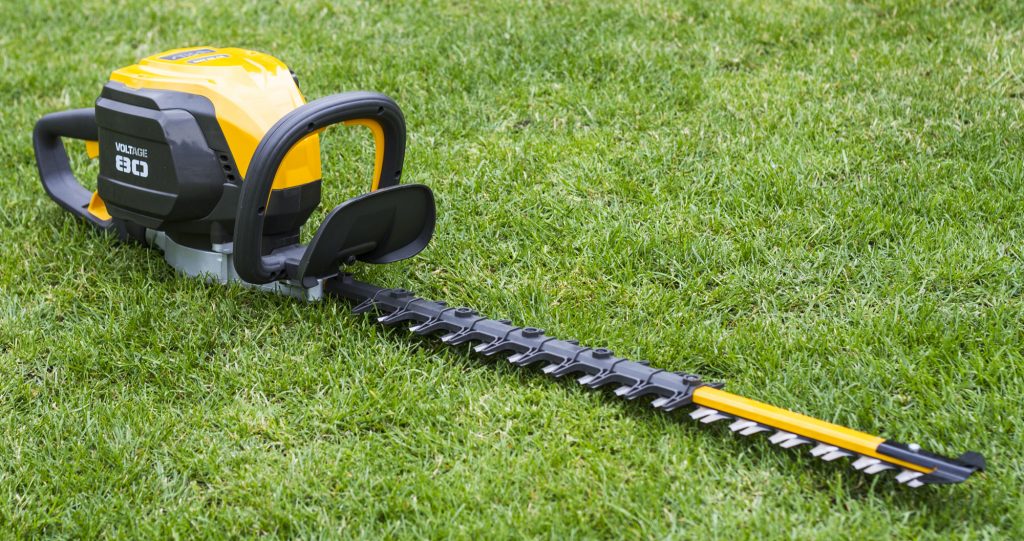 This is a strong sturdy feeling machine. Nothing flexes too much and hit has enough weight to know you're holding something quality, but it is lighter than a petrol machine making it easier to handle. The controls are well placed and battery clips in and out with a positive action and feels very secure. I've got no concerns about how this will hold up over time.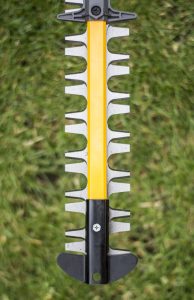 The blade tooth spacing is generous at 33mm so you know it'll cope with some really tough hedge cutting. The 57cm cut length is a good compromise between being short enough to make it easy to control, and long enough to make cutting your hedge as quick as possible. Most petrol hedgecutters are between 50-60 cm blade length, and most electric versions are shorter at 40-50cm.
No sooner is the battery clipped in than I feel compelled to press the power button and pull the trigger. Instantly the blades start up and we're ready to cut. It seems powerful but there is no way to tell until I get it outside. One thing is for sure though, I wouldn't have started any petrol hedgetrimmer that quickly and easily out of the box, let alone indoors. I can already tell the advantages of the quite running, and push button starting. The thing I didn't anticipate was the minimal vibration that you get with this. There is a small amount from the movement of the blades but nothing like you would get with a petrol powered machine.
Build Quality
This is an impressively well constructed machine. The feel is more akin to a top quality petrol hedge cutter. This doesn't feel like any electric / cordless product I've used before.  It is really sturdy, strong and feels like it's ready to take a beating. The wide tooth spacing is testament to the manliness of this hedge cutter, but it is the extra details that make this feel so solid. The plastics are thick and tough with no flexing. There is even a cast magnesium alloy casing that holds and protects the blade gearing.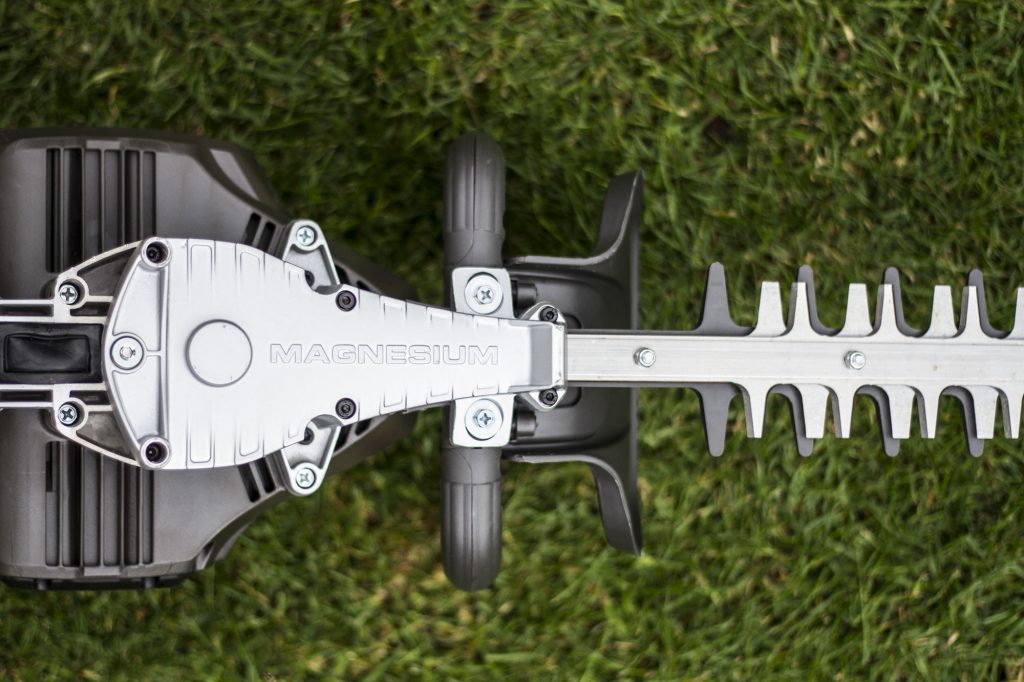 In Use
It's official, this Stiga 80v cordless hedgetrimmer is simply amazing!
It sailed through everything we threw at it without even a second thought. The low vibration made it easy to use for long periods of continuous use without any fear your hands were going to numb. When you want to stop, everything goes silent, not tick over noise. Without any cables there is no fear of cable cutting and you are free to weald at whatever angle you want. If you missed a bit, its effortless to go back over it, without needing to reroute a cable.
Operation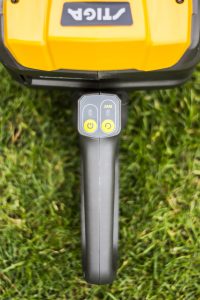 Using this hedgetrimmer couldn't be easier. This should be idiot proof. This is how easy it is:
Press the On/Off button
Hold loop handle to press front safety switch
Pull trigger
You're cutting!
If you want to change the handle grip position there is a loop at the bottom of the handle, simply pull this back and twist the grip. This is easy to do one handed and locks itself when you let go of the loop.
Capability – Power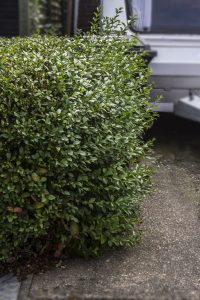 No matter what I asked this hedgetrimmer to cut, it shrugged it off with ease. While privet hedge was never going to be a serious challenge on cutting power, it glided through the growth. The flexible, lush branches didn't cause any problems with jamming or clogging. The variable speed made it easy to gently and precisely trim the odd stray branch that'd been missed.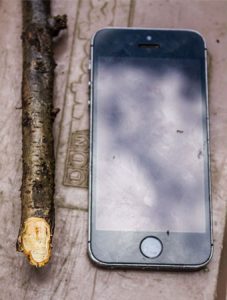 The woody shrub hedge on the other hand would be a challenge to any hedgetrimmer. This was long overdue a cut back, and having this tool was a good opportunity to go hard. I don't think much would out perform this Stiga 80V cordless hedgetrimmer. I had my doubts and the 'Jam' button on the handle doesn't instil confidence, but I never had to use this feature. It worked it's way easily though the widest growth. Anything tougher, you would be reaching for a small saw, not a hedgecutter. As it was I couldn't believe this went through 3cm thick established wooden branches.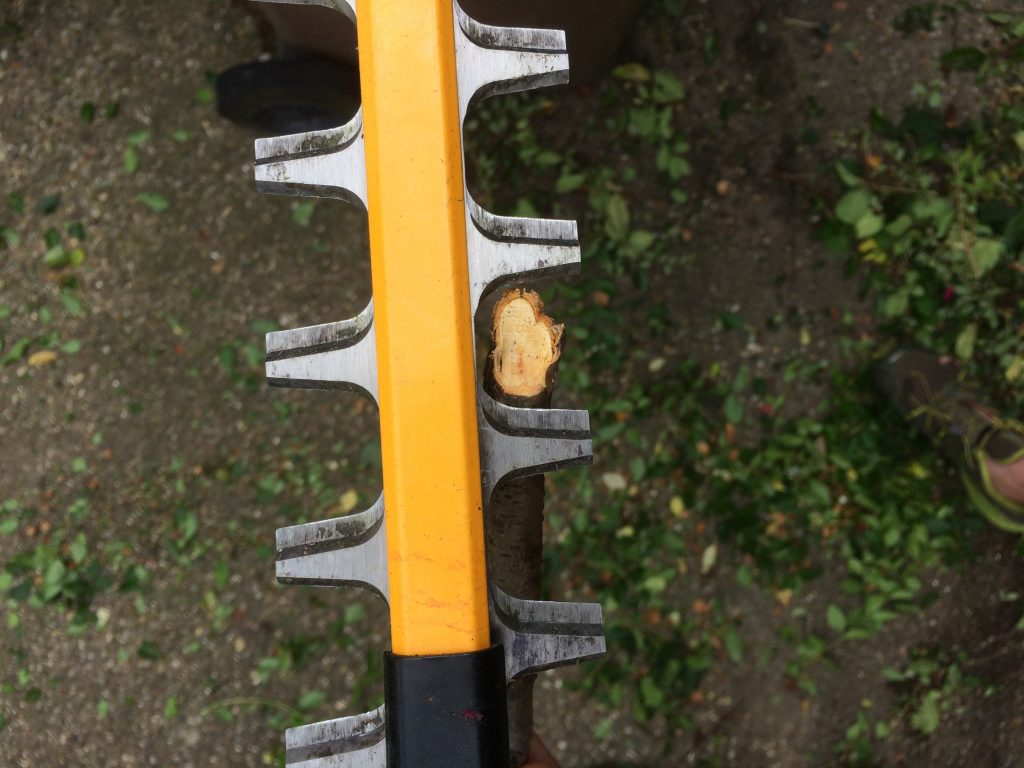 To really challenge it I even wanted to shorten the low hedge by about a foot, so lined up and went straight down. I wish we'd videoed that bit as, although not effortless, it worked it's way through nicely without needing much force from my to push it through. it cut the larger branches whilst also dealing whilst also dealing with the smaller intwined stems. If you're cutting more than this, you have to question whether a hedgetrimmer is the tool for the job.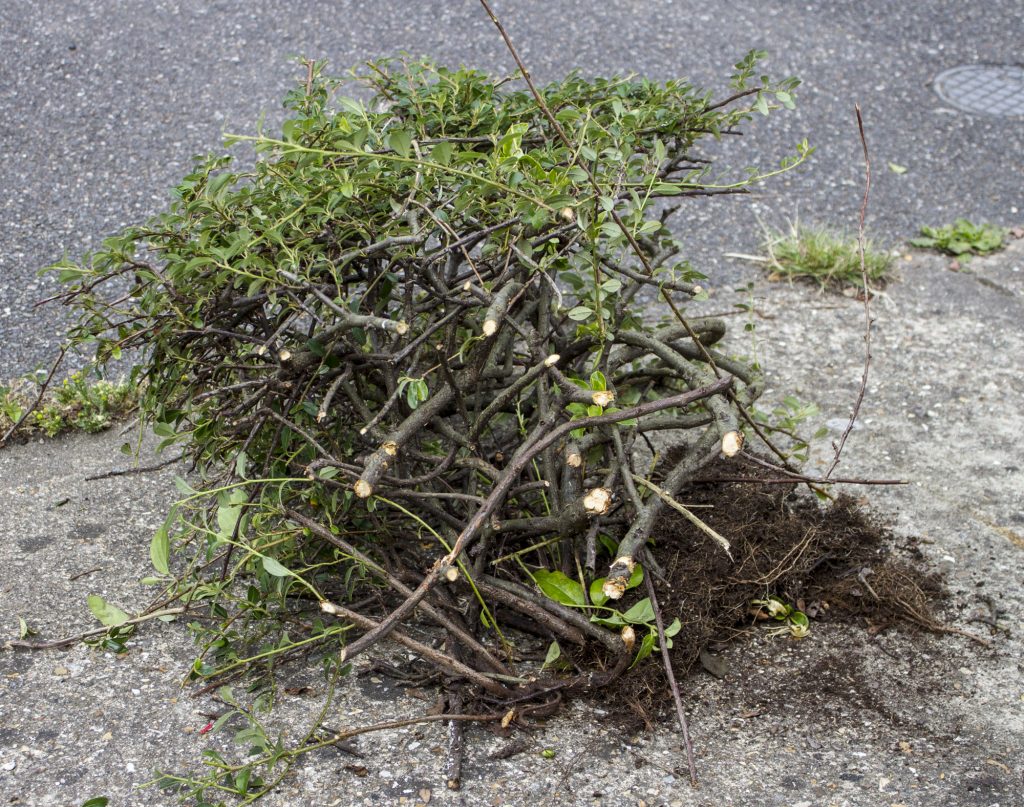 Although not recommended, the machine had enough power to cut when started with the stems in between the teeth, there is not warm up / revving up time needed first like you would with many machines.
Battery Performance
I think we've established it's go enough power. But how did the battery life suffer? Well, in short, it didn't. After an hours cutting, with typical stops and starts, the battery was still on full strength. I would love to test the true life of this battery but at the moment I don't now have any more hedge to cut. Even with the tougher growth the battery has taken all of it in it's stride and not drained too much. The quoted 1 hour battery life really doesn't do this justice. I could easily see me getting a half days work of of one charge without too much panic.
Comfort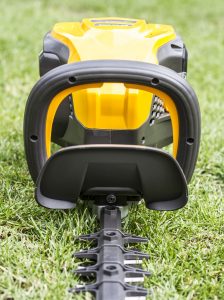 The handles are ergonomic and grippy so it was both comfortable to use and also felt very secure in our hands at all times. The twist grip rear handle is easy to adjust at the pull of a loop trigger. Simply twist and it automatically locks into one of 5 positions allowing you to work comfortably across the tops and faces of hedges. The large loop for your front hand complements the twist grip and can be used at any angle. Because it was so easy to switch handle positions, I flicked between positions far more than I thought I would.

Another nice feature is that the the handle is tilted up away from the base of the machine. This means when working a dense hedge, the handle doesn't rub or scrape along the hedge. It also keeps your hands further away from the vegetation. Particularly useful if cutting holly or other spikey material.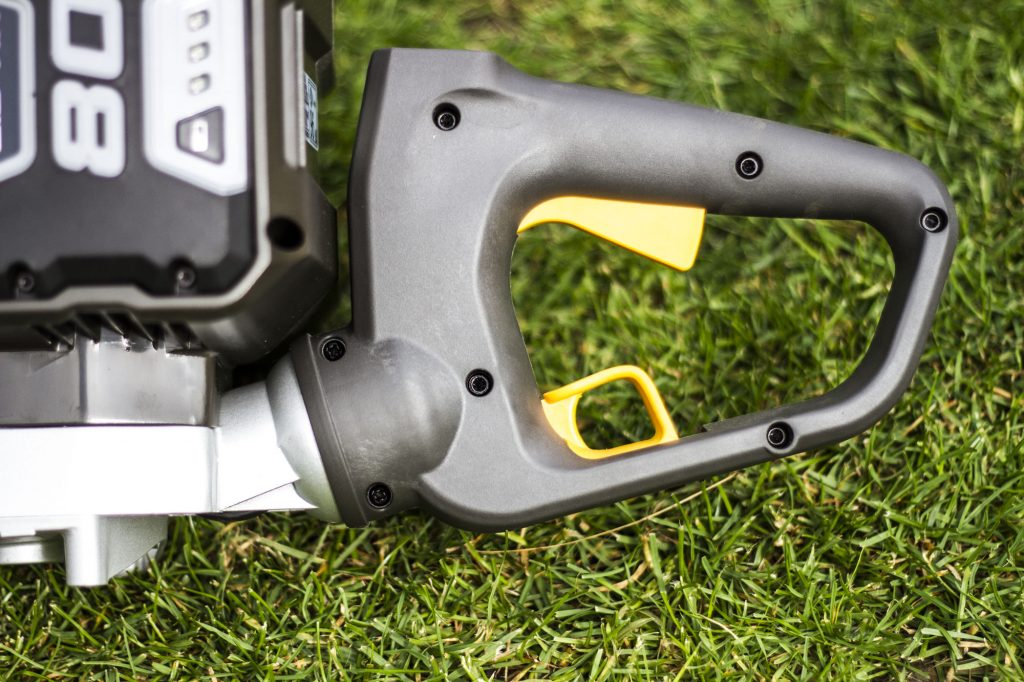 Noise
Low noise is something you really don't appreciate until you start using machines that don't wake up everyone on first use. I started my hedge on a Sunday morning at about 9am. Whisper quiet I had no fears over this waking any neighbours up. While it makes a little noise in use, the moment you release the trigger the world fall silent again. There is not tick over / idle noise, no revving up to get it warm, no nothing. Just quiet and effective.
Living in a village friendly neighbours are often walking past, It's easy to say hi, have a quick chat and carry on. In fact for some this could be a downside, I was distracted by far more people using this hedgecutter than when I have used any other. They all wanted to know what it was, as they couldn't believe the power of the cutting from something cordless. It is also nice not to be wearing ear defenders on such a hot day.
Safety
I personally feel that cordless hedgetrimmers are the safest type of hedgetrimmer. With a double safety switch there is no risk of accidental use. To operate you need to have hold of both the trigger and the front loop handle. While you get this on electric machines, petrol versions only have a trigger and once the engine is running the blades start up with just a trigger squeeze. Because of the effort involved in restarting petrol machines, most people will leave them idle. You can now accidentally start the blades moving when you go to pick it up etc, or if anyone else did.
You also have the fumes, and even have to worry about burning yourself on the hot exhaust. While you don't get these issues with an electric machine either, you do have to be careful not to move the tool in a way which means the cable gets caught by the teeth. The most common cause of electric hedgetrimmer repairs is people who have cut the power cable while hedge cutting.
There are two sets of blade protection to help keep you as safe as possible. A ABS plastic blade protector sits atop of the blades for the closest 2/3's of the blade. This means anything larger than this spacing will not even touch the blades. Stray arms won't get caught by accident. The tip of the blade also has a wall guide on it. This stops blades impacting a wall or similar and pushing the force back towards the operator.If you have ever caught the tip of a hedge cutter against a wall you will know the force the blades can push back with; it is not a pleasant experience for your wrists. It also means you won't easily catch the tip on any clothing etc.

The Negatives
This is going to be a VERY short section. I only really have three (and they're not big ones either).
Flimsy Blade Guard – The machine is very well and sturdily built. The slide on protective guard however is not befitting of a £300+ tool. It is flimsy and bends easily making it fiddly to get on properly and prone to scratching.
Front Handle Switch – This is actually two switches that wrap around the inside of the handle. My issue is there is a small (2.5cm) gap between them in the middle. Occasionally during use, when I was gripping directly in the middle, the switch would slip off briefly as I accidentally released it. This switch sensitivity was only really happened when working the more stubborn hedge as the resistance would nudge my hand about.
Colour – I have to say I think this is a great looking product It's stylish, eye catching. The yellow accent down the centre of the blades is really helpful to see where the blades are as it contrast well against green foliage. The downside is that wildlife clearly like the colour too. I found it quickly attracted bugs out the hedge. To them I was not only destroying their home with devastating efficiency but also waving around a giant yellow flow that looked very attractive to them too. This is a bit of a silly complaint really and it certainly wouldn't stop me buy one, but there is a reason I don;t wear bright colour clothes when gardening, and the Stiga hasn't learnt this yet.
Overall
If you are looking for a cordless hedgecutter (or even a petrol one) I would seriously consider this. I can't see this would be easily beaten by anything else on the market. The couple of small negatives really wouldn't stop me from buying this. While some may think it is a little expensive, once you get it in your hands, the price really makes sense. The cost savings you'll make on fuel and servicing over a petrol machine make this a cost effective machine to buy and run long term.
This machine really has exceeded my expectations and I don't think anyone that buys one would regret it.