Weeds are part of life if you are a gardener or have a lawn, healthy soil will always draw hungry weeds.
However- how you treat and manage weeds is important, as many quick acting chemical herbicides contain some very potent and harmful chemicals; These contribute to poisonous toxins in the environment that negatively affect other plants and soil life. The adverse effects of chemical weed control vary from the killing of beneficial insects to the contamination of groundwater. It might be hard to imagine a little bit of weed killer having such a big effect but multiplied over many gardens, this can soon have a massive impact. The glyphosate-based herbicides for example are banned or in the process of being phased out all over the globe from France to Thailand.
These chemicals can be especially hazardous to pets who of course enjoy playing and rolling in the garden. The potential side effects to pets include:  vomiting, anorexia, lethargy, diarrhoea, tremors, drowsiness, eye and skin irritation. Contact to their skin or ingestion are both a real risk. Even stepping on, or brushing against plants with the chemical on could lead to ingestion as they groom themselves.
So if you're looking to move away from chemical weeding, what are your options? Ultimately the most common alternative is to use heat. It's a common misconception that you need to burn the weeds. This will kill them but you don't need to set them on fire to be able to say your final goodbyes. By heating them up, you are boiling the liquid inside the cells causing them to burst. Once the structure is broken the plant can no longer survive – the plant will wilt but still look green. Give it a week or two and the weeds will have shrivelled and dried and you can simply brush them away.
Here's a few tools that are a perfect alternative to chemical weeding:
Batavia Maxxheat 2000w 4-in-1 Weeder / Hot Air Gun / Lighter
From Batavia this is a very versatile piece of kit which is not only a weed killer but also a hot air gun, BBQ lighter and even a paint remover.
The Maxxheat is always ready to use – no additional chemicals or gas are required. This makes it very environmentally friendly which is the name of the game here.
This weedkiller subjects' offenders to 600-degree blast of hot air – enough to kill even the most stubborn weed. By exposure to high temperatures, the plant's protein is coagulated in the weeds, and the cell walls are disrupted by the expansion of the cellular fluid. Immediately after the treatment, the plant can therefore still look undamaged, but after a few days it will desiccate. This process not only provides a short-term weed control, but also achieves a long-term effect.
The kit also includes a click & go extension pole, the unique rotatable handle and specially designed nozzles. The Batavia Maxxheat is truly a multifunctional innovation.
Key Features
Easy and fast: destroys weeds by heating in only 5 seconds
Powerful hot air gun: with three temperature settings up to 600 °C
Versatile: Suitable as a safe and fast barbecue lighter and paint stripper
Complete: includes four specially designed nozzles and click & go pole
NEW: stainless steel heating pin for specific targeting of weed underground; no brown spots in the lawn or collateral damage within the flowerbed or vegetable garden.
Best for small, concentrated areas of weeding
We've done a full, in-depth review of the Batavia MaxxHeat before. Read more here.
Sherpa Professional Gas Weed Burner and Trolley Kit
If you're looking to clear larger patches of weeds on a gravel driveway for example whilst still maintaining accurate control this is the one for you. This high-quality weed burner makes killing weeds simple by firing a 1300 Degree flame.
We are dealing with high heat here of course and this includes several features to enhance the safety aspect of the operation. The igniter button is by the handle, so it is safe to light without also lighting up your hands.  A pilot light means no relighting. While making it safer to use, this also saves gas by only having the maximum flame when you need it.
The ease of use has also been well thought through here. The long arm means less bending down and the gas bottle trolley which can hold between 6kg-20kg bottles makes it easy to relocate and transport safely. The gas bottle is cradled by two support arms and secured to the trolley with chains. The securing chain length can simply be adjusted to accommodate different bottle sizes.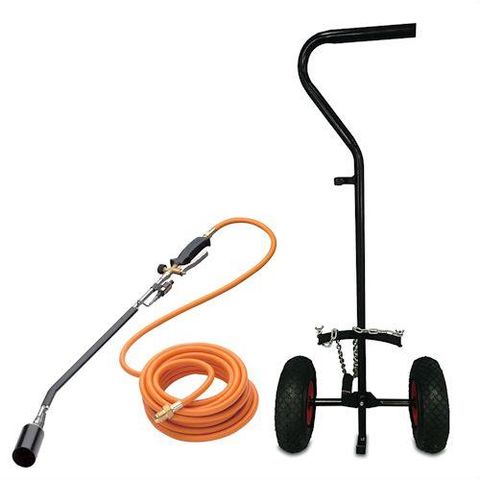 Key Features
Lightweight durable construction
Regulator Included (Propane. Inlet POL 105)
Variable Trigger
Suitable for use with Propane, Butane or Patio Gas (may require a different regulator)
Ergonomic handle for comfort during use
Large Tyres to handle rough terrain
Best for clearing larger areas but with the ability to still maintain some control with the wand.
Sheen X300 Professional Flame Gun
The X300 Flame Gun is a very effective way of controlling weeds in the garden and again without the distribution of chemicals. This is intended for large areas so stay a good distance away from the shed.
This flame gun destroys weeds with its 2000 degrees Fahrenheit controlled flame. When directed at the base of weeds it stops sap rising, so the top growth dries out in a day or two. A second use of the flame gun consumes dried up weeds and weed seeds leaving a potash rich residue.
The flame gun comes with two options, a protective hood and a trolley. The hood serves to direct the flame and reduce wind impact, and the trolley takes the weight out of the job, by allowing you to wheel it along.
The fuel (Paraffin) is contained in an airtight tank and is forced into the burner via a control valve by air pressure supplied by the built-in pump. The paraffin is pre-heated and vaporised for passing through a helically wound coil. The result being a 2000º Fahrenheit flame.
 Key features
Optional flame control hood and trolley
Precision control valve and burner
5 Year Warranty – Mower Magic Exclusive
Kills disease spores and deadly bacteria
Ideal for large areas where precision isn't priority
Fiskars Exact Weed Puller
If you're looking for a manual alternative to do some very targeted weeding, this excellent quality tool it is constructed from stainless steel with a plastic fibreglass handle making it very strong and light.
Once the foot peddle is pressed the tool digs into the ground and traps the root of the weed between its claws. When extracted from the ground, the tool's claws open by means of a pressing mechanism on the handle. The weed is then deposited in a bin or waiting wheelbarrow etc. The movement requires no bending or kneeling, making it a good buy for those with mobility or joint problems.
Key features
The lack of additional costs fuel, maintain etc
High and long lasting build quality (stainless steel and carbon fibre)
Ergonomically design handle for ease of use
Use for spot weeding in small areas
So in conclusion If you are looking to avoid potential long-term health and environmental effects, skip the herbicides, and try some of these effective, organic methods to control your weeds instead.