Navigating your way through the vast range of wheelbarrows available can be a bit daunting. Here we round up some of the best barrows available in 2020, each fighting off many great models to reach the top spot.
The Best of the Best – Best Overall Wheelbarrow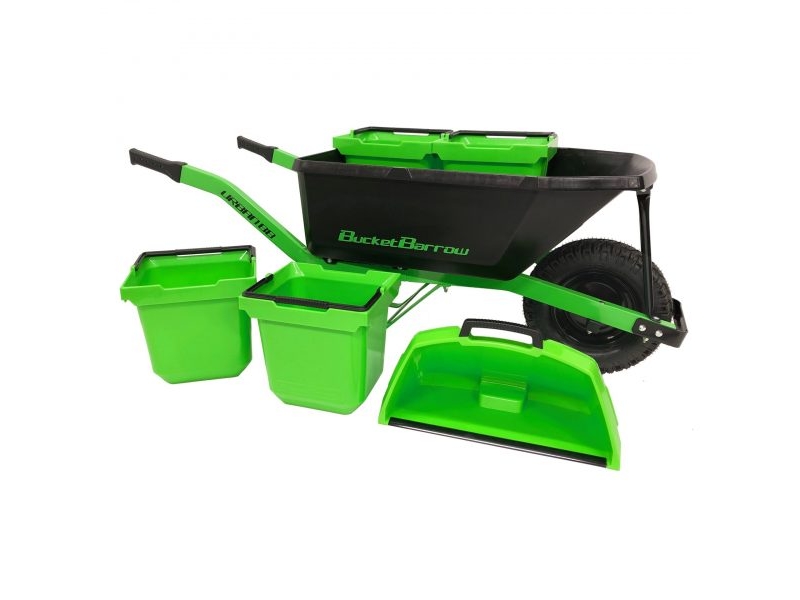 We couldn't not give this fantastic bit of kit the top spot. When you look at all the small details on this wheelbarrow, the BucketBarrow wins hands down against almost any barrow out there. The tough build will guarantee many years of use, while when used with the clever bucket system you get the most multi-purpose barrow we can find that genuinely will make jobs easier to do.
Best Standard Barrow
It's fair to say that the BucketBarrow URBAN88 has won a place in our hearts here. I'll try to keep the summary of why this has got to be one of the hands down best wheelbarrows out there at the moment as short as I can but this barrow has so much going for it, it might be a struggle. In essence the BucketBarrow is a superb quality wheelbarrow that then has a set of square buckets that neatly slot into place in the barrow along with a front scoop that enable you to keep materials separate, take them into boarders as you work and easily empty the barrow into a bin one bucket at a time unlike a traditional barrow.
Lets start with the barrow for now. While on paper the 88 litre capacity might seem smaller than some but don't be fooled. You can actually get a lot more in this barrow than the spec gives it credit for. This is mainly due to the boxy profile; with straight sides all the space is useable and easy to fill and empty meaning you can get more in, especially if moving things like paving slabs etc. What's more is the barrow also sits really level so when loading loose materials it can be filled evenly rather than getting more at the front as the back drops down. This tray might look like many other plastic trays but it has been thoroughly reinforced with triangular ribbing under the lip and a shockboard underneath for the ultimate strength. The tray is then mounted on on a frame made of box section steel that's triple powder-coated for protection against the elements; this is considerably tougher than a tubular frame without any real added weight. Another great point is how the tray mounts to this frame. Rather than the normal 4 bolts, this tray has 6 mounting points all of which are under the tray on special molded brackets so the bolts go straight through the frame. By doing it this way there are no holes in the tray, so you have a smooth base when it comes to shoveling soil out, and the bolts also don't sit in pooled water in the tray so won't rust through like other barrows. To top it off the barrow has then been finished with a really heavy duty thick front wheel with wide profile and needle bearings and comfortable to use handle grips. These grips even have a backstop so when pulling the barrow backwards your hands don't slip off even if it's wet and cold.
Adding in the buckets and scoop make this an even better barrow. You can still use it as a traditional barrow and tip out from it (which is easy to do and stable with the square front tipping bracket) but with the buckets in, you can fill these with waste as you weed and then simply list out and tip each bucket into the bin. If you're filling with mulch fill the barrow with them fitted, the angled top edges will channel the mulch into each bucket and then you can simply take each bucket into the border with you as you need.
As for the front scoop…well… I'll be honest, to begin with I just thought this was shaped to fill that awkward space in the front of the barrow, and it to be fair, it does a great job of that. BUT it is far more useful than we first thought. With the edge reinforced with an aluminum strip and a second grab handle / indent at the bottom, you can use this as a hand shovel to scoop up loose materials out of a pile, like compost or mulch to then fill the barrow /buckets. It also has two little foot platforms at the back so you can use it as an oversized dustpan with a broom to sweep up straight into it.
Overall this barrow has just impressed us in every aspect. The flexability of how it can be used is unrivalled, the other features that al combine to make it a dream to use, and the top build quality that even just looking at it in real life reassures you that you will get many many years of use from it.
Best Budget Wheelbarrow
Handy Galvanised Garden Wheelbarrow – £40 mowermagic.co.uk
If you're on a budget but looking for a basic barrow that will get the job done, but without loathing the idea of using it, this Handy is a great buy. At £40, this barrow has a galvanised tray and frame to help hold off any rust, a simple tubular frame and a puncture proof 33cm wheel with bearings. Unlike other budget barrows, this Handy Wheelbarrow has a good front wheel profile, the deep tyre profile (not just a bit of a strip of rubber tread on a solid plastic wheel) helps smooth out the terrain and keeps loads stable as the barrow jitters around less when loaded.
Best Twin Wheel Barrow
Offering fantastic value for money, the County Countryman is a pocket friendly twin wheel barrow. With a reasonable 130 litre load capacity, it's the next step up in size from most standard wheelbarrows. The twin-wheel design is nicely spaced making it really stable even when fully loaded. Twin wheel barrows are a great alternative if you need to carry heavier loads or struggle with the weight of a standard barrow as you don't have to focus on balancing it, just lift the back and and off you go. The County Countryman is built on a galvanised tubular steel frame with tough plastic tray. To help cope with the extra weight, it is also fitted with a front tray support keeping the bucket rigid. The tray is also UV stabilised which is great to see on a barrow of this price as it will stop the colour fading and tray going brittle if left outside.
Honorable mention: BucketBarrow PRO130d
I couldn't not mention the twin wheel 130L version of the BucketBarrow either at this point. This is a really tough build and super stable. Like the other BucketBarrow systems you can use it with the bucket setup or as a standard barrow. The barrow on it's own sells for £210. While it is justified based on the quality, it was this price difference and the fact the BucketBarrow has already taken the top spot in two other categories that lead us to choose the to give the County the win this time.
Best Builders Wheelbarrow
So, we've already said quite a lot about the BucketBarrow URBAN88 which we really can't fault (see above), and the trade version of this is really no different. This professional spec version uses the same super tough tray but adds in even more metal reinforcement under the tray, a metal front slam bracket to protect the tray when being banged on the floor to empty it out, and a heavier duty subframe made from 25mm powder coated tubular steel with thick scuff plates at the bottom to protect the legs when used repeatedly on hard surfaces. With all this reinforcement the PRO88 has an huge weight capacity of 180kg and includes a 2 year warranty. The buckets and scoop have also been upgraded with thicker, tougher plastics and zinc plated metals handles.
Previously the Altrad Belle Warrior has been our go to builders barrow but the BucketBarrow is a solid upgrade even on this well respected barrow. With a tougher box section frame, more tray reinforcement (with shockboard and metal braces), a slam bracket, double the warranty, more ergonomic handles and, like with all BucketBarrows, the ability to use the buckets which for trade sites is perfect when a barrow can't get somewhere, whether it's through a tight space or up onto scaffolding. The squarer design also means it has more floor space on the base so you can load it up evenly with bricks and slabs etc and really maximise the space in the barrow.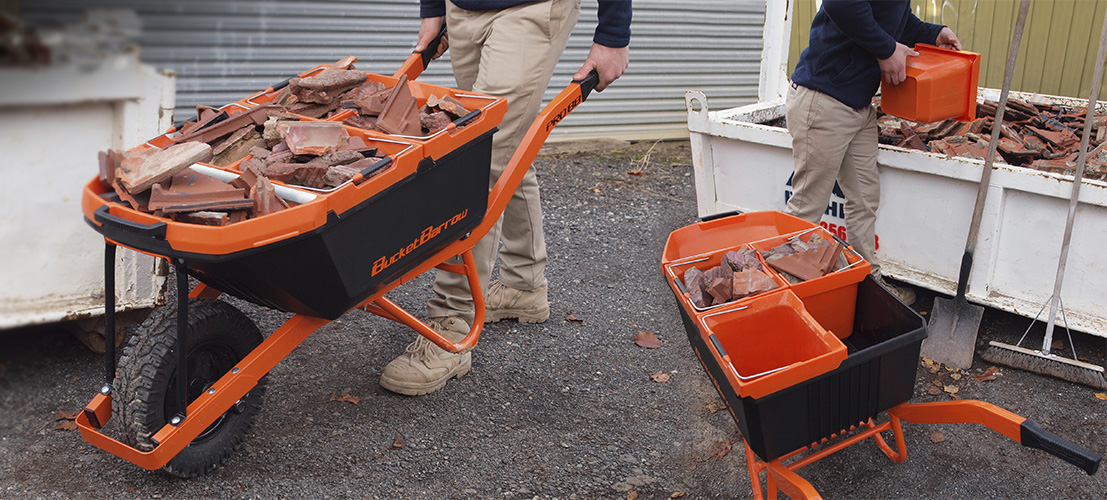 Best Massive Barrow
Sometimes you just need to move stuff, and lots of it. Ideally suited for large but light loads like hay and straw, the Big Blue Twin-Wheel Barrow has a huge 280L capacity. The twin wheel design keeps it stable and the flat proof tyres mean it should always be ready to use. To ensure many years of service, the frame is hot dip galvanised to prevent any rusting and stainless steel nuts and bolts are used throughout. With it being so big you'd expect it to be difficult to empty, but with the wide square front brace bar, when being tipped it is stable on the floor helping you control the weight as it empties.
 
Best Powered Wheelbarrow
Sherpa PowerBarrow – £749 amazon.co.uk
If you're looking for a helping hand moving heavy loads or going up steep slopes, a motorised wheelbarrow might be perfect for you. Load it up, and let the motor do the work. There are lots of styles of powered barrows available but the features and design of the Sherpa PowerBarrow (SPB-500) offer the most versatility.
We'll start at the business end of the barrow. The PowerBarrow has the motor completely housed within the front wheel so all the mechanics are hidden away from any mud etc. The wheel is fitted with a deep chevron treaded front tyre (think tractor tyres) to get great grip on almost any surface. The drive is variable speed, and operated by a trigger on the handle. The barrow can also be pushed like a normal wheelbarrow if you wish (or run out of battery power), unlike many others where the motors are locked in place when not being powered. If you need to stop on a slope or control the barrow as you go down a hill the Sherpa barrow is fitted with a disc brake that will hold it firm and can even be locked on while you fill it up.
Designed much like a traditional barrow, it has the large front wheel, but at the rear are two large heavy duty castor wheels so you can simply move the barrow around without needing to lift the weight in it. While it might look like a traditional barrow, it does have a trick up it's sleeve when it's time to empty it. The 170 litre galvanised and powder coated steel tray is mounted to a tipping frame. Simply undo the large catch at the back, and tip the tray forward to empty while all 3 wheels remain on the ground.
The wheelbarrow is powered by a battery pack that's stored neatly out the way under the tray. Tip the tray to access this and simply lift it out to put it on charge inside. If you need to use your barrow a lot each day, extra battery packs are available.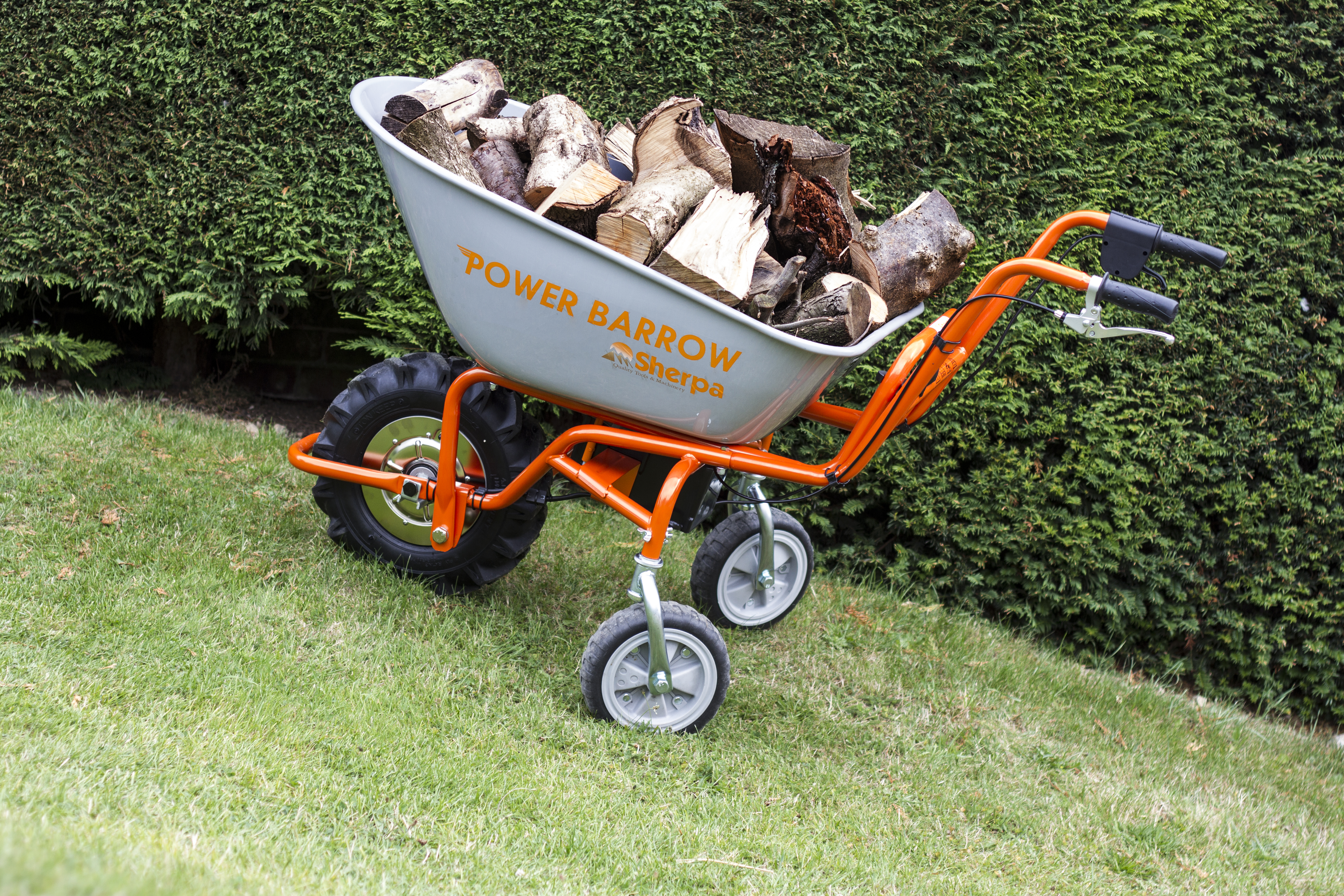 Best Kids Barrow
County Junior Childs Wheelbarrow- £35 mowermagic.co.uk
It's fantastic to get kids out into the garden, helping out and learning about nature. But all too often there aren't any real tools to help them do this. Often an adult tools like a trowel is ok, but a full sized wheelbarrow is just too much to big to use safely. While there are toy wheelbarrow available the choices when it comes to a properly built children's wheelbarrow are limited. But that doesn't mean they don't exist. Our top pick for a 'proper' kids wheelbarrow goes to the County Junior. Available in three colours; red, light green and dark green, the Junior is a scaled down verions of their best selling Cruiser wheelbarrow. The powder coated metal frame and plastic tray make this is a true scaled down version. A 30cm puncture proof tyre is fitted up front so you know the barrow will be ready to use whenever it's wanted. The 35 litre tray is a great size, big enough to carry fit in a few pots, or shovel loads of soil, but small enough that even fully loaded it should be a manageable size. County say this barrow is suitable for children from 3 years and up.

Best Cart
Sherpa Large Utility Cart – £119.99 ebay.co.uk
If you're looking for even more carrying capacity (weight or load size) it might be worth considering a 4 wheel garden cart. These carts are super stable with four wheels and can take bulkier or heavier loads with ease. Loading is easy as the sides can be lowered or removed if you need to. Our top pick for this category is the Sherpa SLGT3; with a maximum carrying weight of 450kg. This cart is competitively priced against others that are a similar size, but includes a fabric liner worth around £20 so you can also load it with compost or other loose material without it falling through the mesh base (a major draw back of this type of cart).
There are lots of carts that look like this in the market but don't be fooled. When you look close at the frames, they are often made of lots of small pieces of flat, thin metal, prone to flexing and wearing prematurely. This tougher built cart from Sherpa has a box section frame and axles with thicker materials, less joints and simpler assembly. Less connections means there is less to go wrong, or wear out. The nuts and bolts are also come in an easy to use blister pack so you can't really go wrong when putting this one together. Having built up this cart and some in the other style, this cart maybe took 10 minutes to assemble where the other cart took me nearer an hour, even longer when you make a mistake and have to undo have the bolts you've put on (oops!).
The clever handle / towing hitch might come in handy too. Simple take a pin out, and swivel it round to reveal the towing side that can be hitched up to any ride on mower etc. While not many people will use this, its nice that it is all built in and you don't risk loosing a piece when you then want to use it as a hand cart again.
Best Barrow Alternative
Sometimes a typical wheelbarrow isn't quite the right solution and a cart may not offer the easy emptying of a barrow that you can tip. That's where the Cobra Poly Hand Cart comes in. The 4 wheel design is stable and can be towed instead of having to list any of the weight like you do when using a barrow. But It has the upper hand against the larger mesh carts with it's clever tipping function so you can empty it just like a barrow. This version from Cobra is well made, with a long draw bar for comfortable towing, a 200KG capacity to rival any barrow, and a strong tray with ribbed design for rigidity. The tipping mechanism is easy to release and has a wide handle for a strong grip when emptying. The tipping function on the Cobra cart differs from some similar models as the wheelbase is fixed (some other the wheels move closer together as you tip). This simplicity should help make more durable in the long term.