I'll kick this off by saying, I don't use a pressure washer a lot, but when I do, it needs to be up to the job. That's why when I looked around for one, I wanted something that wouldn't take up much garage space (as that's where it will spend most it's life), not cost me an arm and a leg, but still be able to blast the winter grime away.
After a lot of reading and shopping about, I picked the AQT33-10 up from Mower Magic for £65 including delivery which I didn't think was bad at all for the spec. I'll admit you can pop down to a chain superstore and buy an own brand in similar spec for less, but the Bosch felt like more thought had been put into the clever parts of the design and I also like that spare parts are available for this model, an assurance I couldn't get for cheaper own brand versions, meaning if a hose splits (or mouse eats it which seems more likely in my garage) I will be able to keep it working for a fraction of the price of a new one.
Straight out the box the pressure washer was pretty much set up as it would be for storage. Handy compartments to each side make storing the lance easy. The neatly held on the back, and electrical cable wraps on the side to keep it out the way. To get going I simply had to screw the transparent hose connector to the front water intake, connect the lance (a 3 part design that clicks together almost without thinking about it), and hook up to the mains and a hose. I was very impressed, everything clicked together nicely and feels solid and secure. This may not seem like much but compared to my previous budget washer where everything seemed to have some play straight out the box, this feels a lot more solid.
This pressure washer is as easy to use as anything you could wish for. Simply press the trigger and your cleaning. The lance is long enough that you don't feel you'll hurt your back cleaning patios, but short enough to keep it manoeuvrable in harder to reach places like car wheel arches etc.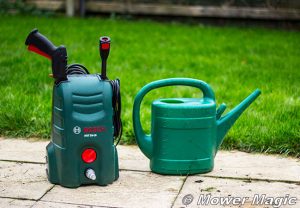 To say the AQT-33-10 packs a punch would be an understatement, for a machine that's only as big as a regular watering can I can't see that for typical domestic cleaning you would need anymore power. Now I'm sure bigger more powerful units do have their advantages, but if something is powerful enough to get the job done, and you only use it a handful of times a year, what more do you really need?
The toughest test for this pressure washer was always going to be our patio. We hadn't cleaned it since we moved in 2 years ago and a good layer of greenery had built up. The Bosch pressure washer blasted through this with comparative ease. I only needed to go over it once for most the patio, and a couple of passes on the dirtiest parts restored it to it's former glory. The fan nozzle made it easy to clean a good 20cm strip with each pass so really it didn't take long to make progress. The limit to this machine is if you hold the lance much further away, the pressure isn't really high enough to blast dirt away (great for wetting a car when you're washing it though).
The moss on the stone walls didn't last long against this machine either. I'll admit I had to hold the nozzle closer to the wall to blast pieces off, but blast them off it did. I learnt the hard way that this had more than enough power to dislodge some of the mortar between the stonework.
Packing up was quick and easy. Everything disconnects as easily as it went together and is stowed neatly in the body of the washer. Within minutes it's up on the shelf.
Overall I couldn't ask for anymore. Reasonably priced, enough power to get even the tough jobs done in a sensible amount of time and stores down nice and compact. OK, it doesn't come with loads of extra attachments…BUT, if you're after a no nonsense pressure washer with good performance the Bosch AQT33-10 is spot on.
UPDATE
Bosch now do the AQT33-11, which is VERY similar spec (same pressure but a slightly higher water flow rate). It also has a few neat features to keep storage space to a minimum.
Where to buy the Bosch AQT33-10 – Mower Magic