Fed up of the loose hose I bought on the cheap several years ago I had my eyes open for a known brand but well priced hose reel set. Low and behold, I found this little bargain, a Gardena Hose Reel Kit 2691-20, reduced at Homebase for £21. Full spec here.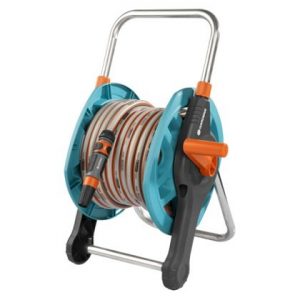 This 20m Gardena hose reel came with all the attachments and nozzles I needed and assembly only involved screwing the connectors on. This reel came with 20m of hose. This is enough to reach all the places I need to around the garden and get around the car and caravan to wash these with ease.
Quality
Gardena has a good name for quality in Europe despite being lesser known here in the UK. My expectations were surpassed and for such a reasonable price (even when normally £30). The connectors are of comparable quality to Hozelock and after a few months have held up well to regular use and I haven't had any issues with the hose pulling out etc that you get ith cheaper hoses and connectors.
The twist spray nozzle is well built and grippy even when wet. My only niggle about it is that you it doesnt take very much of a twist to go from wide fan spray spray to jet, this makes finding that in between spray patten difficult to dial in on. Having said that, the twist action is positive and doesn't accidentally change when you're using it.
For total peace of mind, this Gardena hose also comes with a 2 year guarantee.
Easy To Live With
The reel is super easy to wind up again at the end of use. The large carry handle makes it comfortable to hold firm while turning the reel handle. There is also lots of spare capacity so if I needed, I could fit up to a 40m hose onto this reel.
This reel is light enough to carry, but at the same time heavy enough to stay put when you need to unwind hose from a distance; no added foot holding needed. The extendable handle makes it easy to pick up, especially if you can't bend down as far as you'd like. Lowering it makes it compact to store, and if hanging it on a bracket for storage the back leg even folds in under the reel so it sites flatter against a wall. For an affordable kit, this Gardena Hose Reel is packed with useful features.
So far the hose itself has proved very resilient to kinking, despite only being their entry level hose. It gives me a lot of confidence in their more premium hoses that are advertised for kink resistance.
Overall I couldn't be happier with this hose. I know there are areas that over time will weaken and where a more expensive version would prove it's worth. But for occasional use at home for watering the garden and washing the car, this Gardena hose reel kit is more than adequate and I am sure will give many years of strong use.